We have covered a lot of Spotify errors over here at this website and most of them get solved in few mins and with a few clicks. The Spotify error code 3 is no different, it can also be solved with just a few clicks and in a few mins time. Spotify surely occasionally runs into different kinds of errors from now and then but overall they provide very smooth music streaming experience to their users and users love them for that.
What is error code 3 on Spotify?
So let me show you how you can solve the error code 3 quickly. First of all the error code 3 appears when a user tries to login into Spotify on the website or from the Spotify desktop app, mobile users seem to be not having this problem. Although most users complain that this problem is only with the desktop app and on the web player and the website, no error occurs.
First and foremost make sure, that you are using the latest version of the Spotify app, if not then go to this download page and download the latest version of Spotify. Also, don't use any hacked or third party modified version of the app only use the official Spotify application downloaded from the official Spotify website. Make sure that your System is up to the system requirements as demanded by Spotify. here are the System requirements required minimum to run Spotify in various devices and operating systems.

How to solve Spotify error code 3?
Here are a few ways in which the error code 3 can be solved as reported by members on several online forums and we have only presented you with the solutions that worked for them and us.
Login from your account home country
Since Spotify is not available in most countries, but in those countries, there are also people present who love and want to use Spotify. You could be one of them too, as this error code 3 is mostly faced by people using Spotify this way. So the ideal solution for this would be login into the Spotify website from your browser from the country from where you had first signed up.
There is a good chance that you used a VPN to sign up and now you are using Spotify from your normal home connection or mobile network but Spotify requires to login once every 14 days from the country you had first signed up from. Let's assume you had used a US Ip address from a VPN to signup for Spotify and your home country in your Spotify profile is set to US. So every 14 days you must use the VPN to login into the Spotify website once and you will have to try to login into the app and should be successfully able to log in.
You can find out which country is added as your home country in your Spotify account from this link, log in to your Spotify account if not logged in already. Then download a VPN and then connect to the country which is added to your Spotify account and then try logging in to the Spotify app and you should be able to log in successfully now.
Recover and Change your password
If you are a legitimate Spotify user and Spotify is available in your country, then this solution works best for users and often this is the root of the error code 3 problem for them. Follow the process below to recover your Spotify account password –
Firstly, head over to the Spotify website and click on log in and then click on the 'Forgot your password?' option.
Then enter your email which is added in your Spotify account and then Spotify will send a link to your email to reset your password, now open up and check your email and then reset your password. Now try logging in into your Spotify account from the app which was earlier causing you problems. Also, see how to change or reset your Spotify password?
Use username for Signing in
Many suggest that instead of using your email id to sign in, using your Spotify username works and you are successfully logged in. Now there are many people who don't know their usernames, well if you are one of them, then don't worry we will show you how you can find out your Spotify username –
Log in to your Spotify account from a web browser and then open up your Account overview. There you will notice your username mentioned, use that to sign in into to Spotify desktop app. Now if you have a random number username and want to change then read our guide on How to change your Spotify username?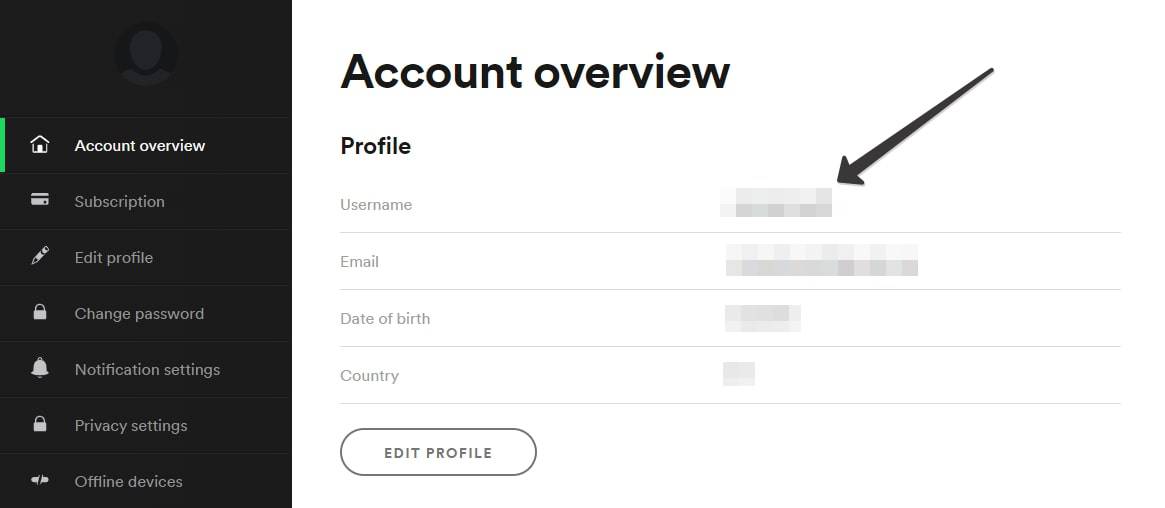 Spotify Error Code 3 on Facebook login?
If you are facing the same error code 3 while logging in using your Facebook account, then you should also reset your Spotify password using the method we have written about above. Firstly locate your Facebook account email, it is the same email which is added to your Spotify account when you signed up for Spotify. Now follow the same procedure for resetting your password and then try logging into the desktop app of Spotify and see if it works or not. It should be logging in successfully now.
Summary
Article Name
Spotify error code 3 Solved
Description
Check out how you can fix the Spotify error code 3 error in 2 minutes and check out the 4 different way to fix this Spotify login error
Author