Spotify surely is one of the best music streaming apps and services out there and they are far ahead of their competition in many areas. They are always working to provide their users with the latest features and the latest releases from artists as quickly as possible. Like others, they also do sometimes run into problems like Spotify does not open sometimes or the Spotify app is running super slow. But there are always easy solutions to these problems as most of the times the culprit are improperly installed updates or conflicts with cache stored or just changing a few settings inside the app settings.
Why is Spotify so slow?
Spotify sometimes can take forever to load on your device and a lot of reasons can contribute to this condition. Maybe you have a slow internet connection, which is causing Spotify to stream slowly or just that your device might not have enough memory for the Spotify app to run properly or maybe some updates were properly not installed and those misconfigured updates are causing problems.
But before we jump into the broader solutions for speeding up Spotify first check is these conditions are ok with your device or not –
Check if your device and device firmware are supported by Spotify. Here are the minimum system requirements for Spotify to be able to run smoothly.

Spotify also needs at least 250 MB of free memory in order to function properly.
Check if your internet speed is up to the mark or not. Check speed with Fast.com. A minimum speed of 10 Mbps should be enough for Spotify to function properly.
If your internet speed is very slow, then try changing the music streaming quality in the app settings, set it to normal if its set to high quality streaming.
Check if there are any updates for your device, try updating your device firmware as many times bugs in the firmware can also cause apps to slow down. Or if you recently updated then try rolling back updates or check on your device forums if other people are also facing similar problems.
Check out @Spotifystatus on twitter and see if Spotify is experiencing any outages or problems with their systems or not.
Anyways here are some ways to make your Spotify app work faster, if all the above conditions are passed and Spotify still is working slow –
Clear Spotify Cache
Most users who had complained that their Spotify apps were running super slow, later informed on the Spotify forums that clearing the cache of Spotify usually solves the problem. If you don't clear an app's cache for a long time, then it can cause various problems with the app, here it is causing the Spotify app to slow down. Here are the steps by which you can clear Spotify cache on your devices –
Desktop Users
For cleaning cache and temporary files out from your desktop you can use third-party apps like Wise Care 365 or if you just want to clear Spotify cache, then head over to this location 'C:\Users\Username\AppData\Local\Spotify\'.
And then delete all the items inside the folders but remember to not delete the folders.
Android Users
Android users can go to their phone settings and then to 'Manage App' or 'Installed apps', different phones have different options but you should look for the option where all installed apps are listed.
Then search for Spotify app and then open its info. After that tap on 'Clear data', then on 'Clear cache' and then finally tap on 'OK'. And it's done, your Spotify app cache has been deleted.
Mac Users
For Mac users who have hidden files not set to display by default, you will have to press the Alt/Option key to get access to the library folder under the Go menu.
If the hidden files are accessible in your device, then just go to the Library folder from your user directory.
Then head over to the Caches folder and search for the com.spotify.client folder.
Delete all the items inside the folders Storage, Browser and Data but remember to keep to folders and not delete them.
Clear Memory
We usually use a lot of apps on our devices and sometimes these apps can use up too much of our device memory, which in turn prevents other apps from functioning properly. Spotify requires at least 250 MB of free memory in order to function properly otherwise with insufficient available memory you might experience lag and the app might run slow.
In order to free up memory follow the following steps –
Open up your Windows Task Manager, but pressing CTRL+SHIFT+ESC buttons together or alternatively you can also right-click on the taskbar and you will see the option for task manager.
Then look for unwanted programs that are running and one by one select them and then press the 'End task' button to close them down to free up memory.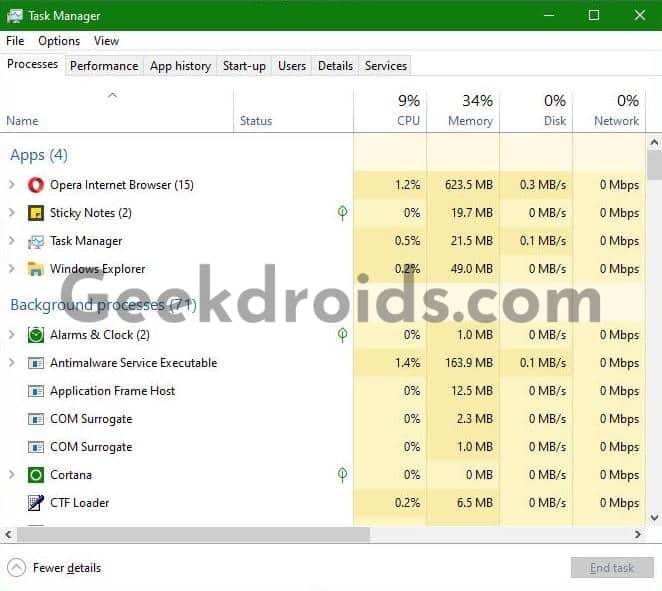 Reinstall or Update Spotify
If just clearing cache did not help, then try uninstalling the Spotify app once and then clearing its cache, then download the latest version again and install it. You can use IOBit Uninstaller to simultaneously uninstall and delete all data of Spotify. Then download the latest version of Spotify from the official website and install it then and see if it is working fast now.
Also before trying to uninstall and reinstall Spotify, try for checking updates once from inside the Spotify app. Then if updates are available then update to the latest version of Spotify and see if Spotify runs fast and normally now, if not then try downloading an earlier version of Spotify from websites like Uptodown and install it and see if older version runs smoothly for you. Maybe too many things have been updated in the latest versions and your device is not able to support all those new features, which in turn is causing the app to run slowly.
Turn off Hardware Acceleration
There are special parts or devices in everyone's computers like the CPU or a special soundcard, which specialize in audio-related processing activities. Normally Spotify decodes audio streams using general-purpose computing and software algorithms but when you enable hardware acceleration in Spotify settings, it uses those special parts or devices inside your computer for decoding audio streams while also fastening your music streaming experience.
But this isn't always the case, a lot of times many users have reported that enabling hardware acceleration in Spotify, on the contrary, slows down Spotify and presents them with a terrible experience. So go ahead and turn off hardware acceleration in your Spotify settings, if you have turned it on. See if Spotify is running smoothly after turning it off.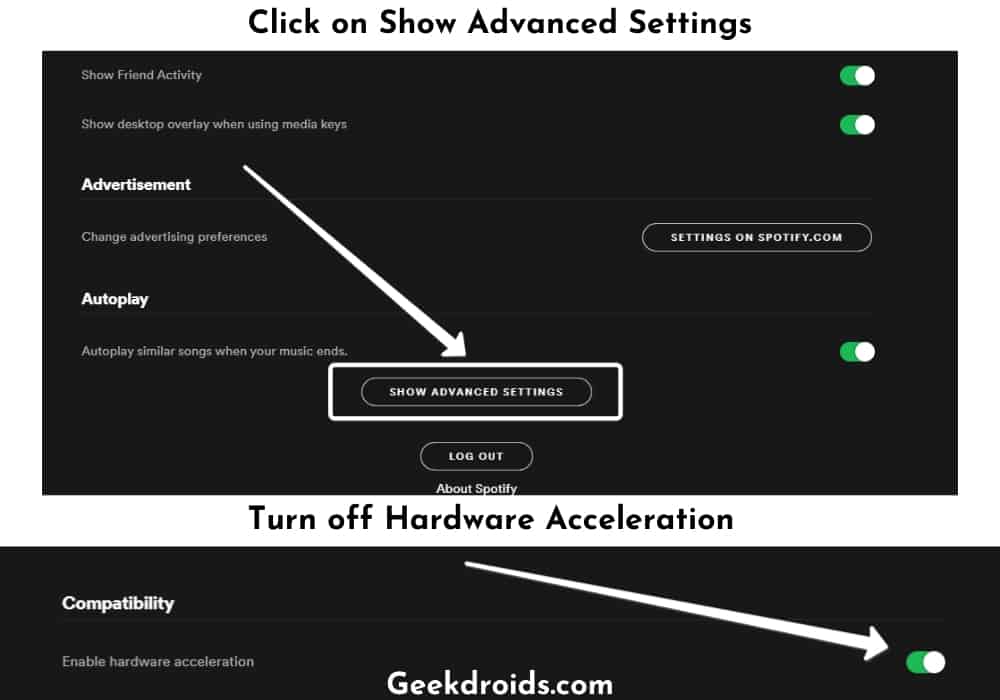 Unshow Local files
Many artists songs are not available on Spotify, so people download them from other sources and play them inside Spotify by using the 'Show local files' option. But when Spotify loads, it scans for music files in all the locations that you have added inside it to look for music files. This noticeably slows down Spotify and disabling this should decrease Spotify loading time and you will notice that it starts working faster after that.

Some other solutions
If none of these solutions made your Spotify app run faster, then try these last few things and see if that works out for you or not –
Try restarting the Spotify app or your device.
Try using a different internet connection and see if its the same way on it.
Try using Spotify inside your web browser, using the Spotify web player as an alternative. It is supported by most modern web browsers.
Try logging out then again logging in the Spotify app and see if this solves your problem.
These were all the solutions that we could find that have worked for other users and us if you found any other way to make your Spotify app run faster, then surely let us know.
Summary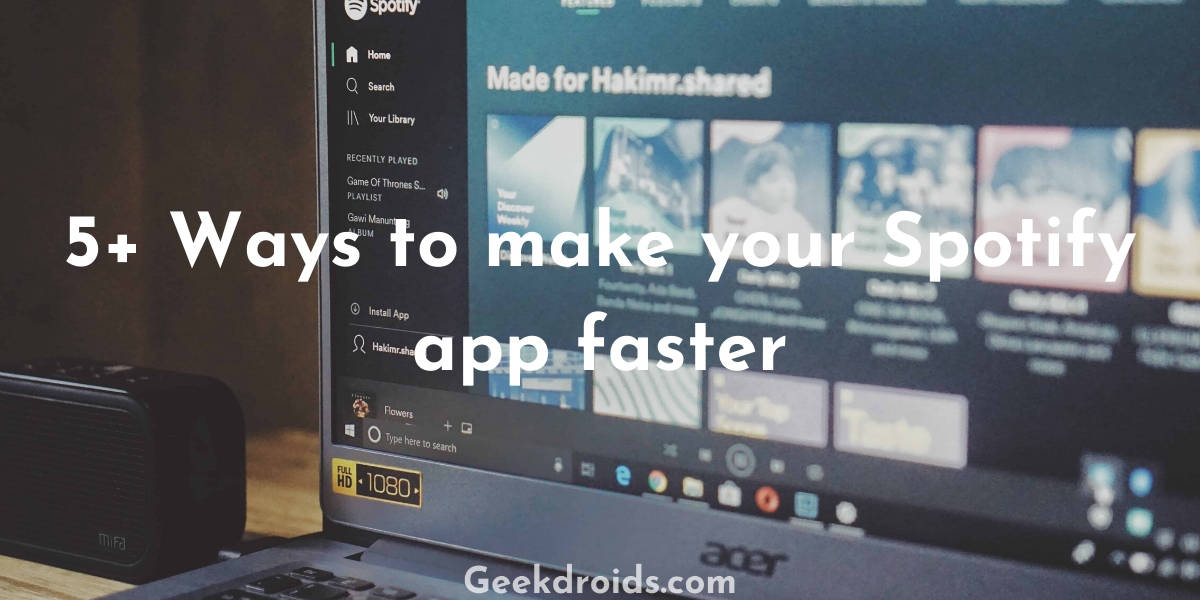 Article Name
5+ Ways to make your Spotify app faster
Description
Why is your Spotify running so slow? Look at ways in which you can make Spotify faster.
Author