Facebook is a truly a mammoth website and a company. It has over 2.5 billion active monthly users and millions of people flock to their website every day. But as no one or nothing is perfect, Facebook also does runs into problems sometimes. Many people seem to be complaining that they are unable to post on Facebook. Let it be a post or a comment, they are unable in doing so. It mostly happens with Desktop users and mobile app users seem to be having no problem at all.
The people having the 'Can't post on facebook' problem seem to be having the problem only on desktops and Facebook seems to be working completely fine on their mobile phones. Thus it can be assumed that the problem is being caused by the devices and it is not a problem of Facebook.
Why can't you post on Facebook?
There are a few reasons which can be attributed to you not being able to post on Facebook, some of them are –
There is an issue with your browser. You will have to clear cookies and cache.
Turn off all third-party add-ons and extensions in your browser and try again.
Use a different browser, than the one you are using currently.
You are blocked by Facebook for abusing their service.
Your internet connection is causing problems, time to troubleshoot it.
If you are unable to post in a group, then it could be possible that you are blocked by the group admin.
Unable to post on your own page? which you are an admin of? Time to clear cache and cookies.
Here is a detailed explanation of all the causes of the 'can't post on facebook' problem and ways to resolve them.
Clear browser cache and cookies
You are probably using Google Chrome or Firefox to access Facebook. They are great browsers but still, they can run into problems sometimes. Browsers tend to store a lot of files of the websites you visit in your local system to fasten up your browsing experience, the next time you visit them. But over time websites keep changing and so do a lot of their code. Now if have not cleared your cache for a long time, then this can cause a problem and you will start having problems with the website you are visiting. To solve this to simply just need to clear your cache and your cookies(Note: If you clear your cookies, you will be logged out of all websites you are logged in in that browser).
The simplest way to clear cache and cookies in a browser is to just go to your browser settings and then search for cache or clear history and the option should popup and then clear all data from the beginning of time and then restart your browser it should have cleared all data and now try logging in to Facebook and try the same action which you were unable to do earlier.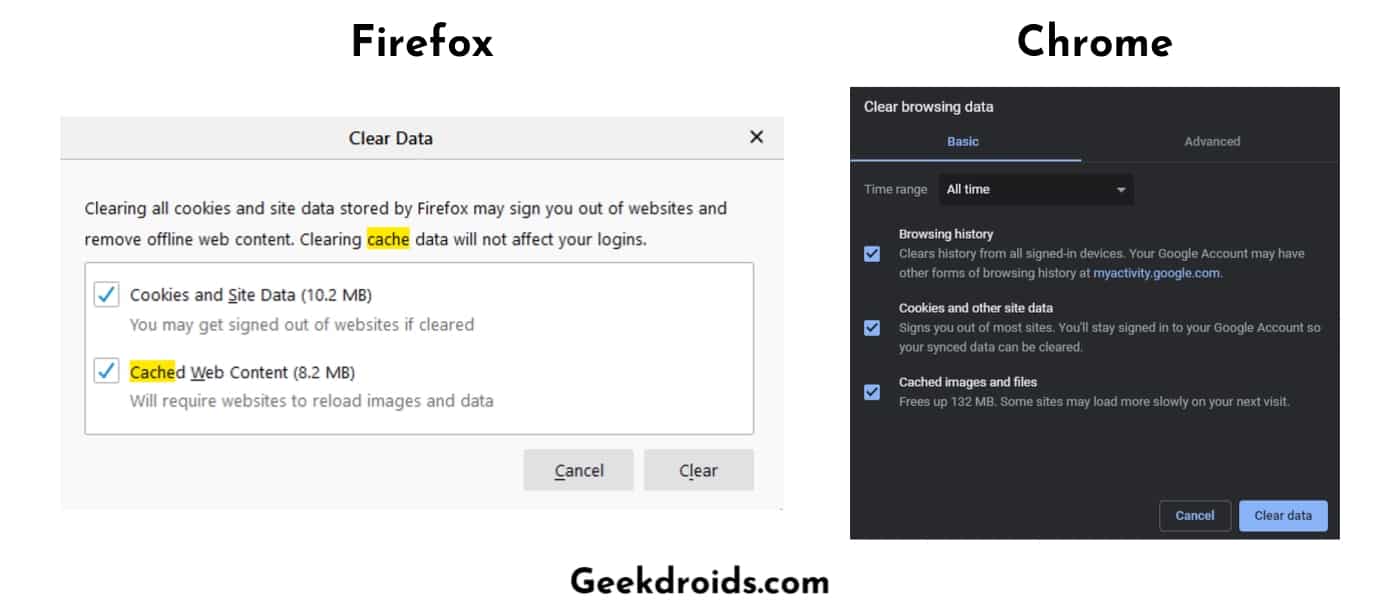 Turn off 3rd Party Addons and Extensions
We, users, like to use a lot of 3rd party addons or commonly known as browser extensions to enhance our web browsing experience but sometimes some of them can cause a bit of trouble with the proper functioning of the websites we are visiting. They tend to interfere in the proper functioning of the website and cause problems, which then causes problems like the one we have been facing, the can't post to Facebook one.
It would be best to clear cache and cookie once from the above-mentioned method and then if the problem is still not solved then, one by one disable your addons or extensions, and see if it works. If the cache clearing solution does not work, then this should work. Even if the problem is not solved after removing all the addons, then I would request you to clear your browser cache once again and then try, and see if it works or not. Facebook should work just fine now.
Change your Browser
Bugs in the browser you are using can also be sometimes causing the 'can't post to facebook problem'. The ideal solution for this would be to simply switch your browser. If you are using Chrome, then you should try Firefox and see if you are still having the same problem or not, if you are using Firefox then do the vice versa and see if the problem still persists and see is you are able to use Facebook properly. There are several other browsers you can try such as Opera Mini, Vivaldi, Yandex Browser and Microsoft Edge.
If you are using a beta version of a certain browser and facing this problem and you are reluctant to switch browsers, then you should try and see if the stable version of the browser is also causing the same problem or not. It is very unlikely that the stable version will also be causing any problem, as a stable version is generally released when they are free of all bugs.
You have been action blocked by Facebook
Action blocking by Facebook is a common practice by Facebook to prevent spammers from ruining the experience for others. Action blocking implies to that suppose if you were sending too many friend requests to too many people, then you might get blocked from sending friend requests for a few hours or if you do that repeatedly then you could be blocked for many days. Similarly, if you were commenting on posts too quickly and in a very short amount of time, then you will get your commenting action blocked by Facebook. Which means that you will no longer be able to comments on posts for the entire duration of the ban.
You can also get blocked from FB if you shared something and that was deemed suspicious or abusive by their security systems and bans because of this can last up to a few days. Similarly, if you got banned because of excessive messaging or sending too many friend requests you could also get blocked for a few days. You need to be following the community standards of Facebook and if you do not then you can get banned for up to 30 days.
If you think you have blocked by mistake, then you should let facebook know by using the help section.
Check your Internet connection
This is a very unlikely cause of the problem because if there were any kind of connection problems then you would not have been able to open Facebook at all in another browser as mentioned in the previous steps. But still, check your ping and try opening other websites, see if they are opening and working properly or not. If not let your internet service provider know about it, so that they can fix it quickly. If you want to try some solutions on your own, then try connecting to a VPN and try accessing Facebook and see if it works then, if not then surely let your service provider know about it.
Unable to post in a group?
If you are unable to post or comment in a group, but you can do all the stuff in other groups on your own profile, then it could be possible that you have been muted by the group admin and cannot post or comment for some time inside the group. If you want it removed, then the only way is to contact the group admins and ask them to remove the ban or if it isn't a permanent ban then you will receive a notification from Facebook when your ban is lifted.
Unable to post in your own Page?
Some people in some forums seem to be reporting that even though they are the admin of a certain page, they are still unable to post anything to that page. Now there isn't any working solution for this except you could try clearing the cache and cookies once from the steps above but if it does not work, then you will have to wait it out as it might be a Facebook bug and they should fix it pretty soon.
Summary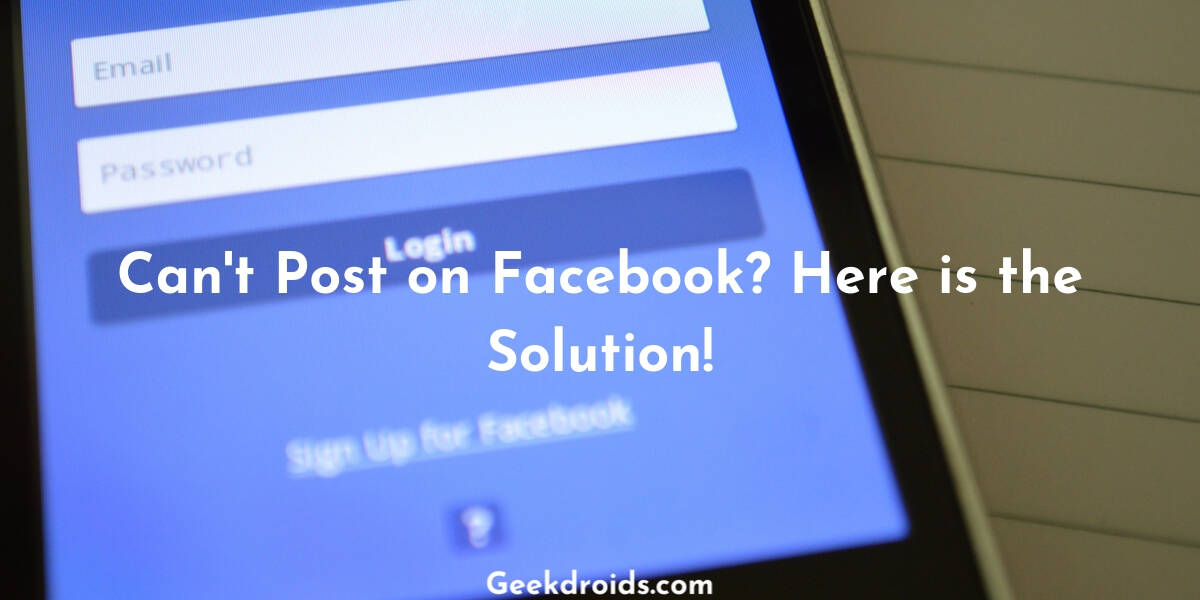 Article Name
Can't Post on Facebook? Here is the Solution!
Description
Get the solution for 'can't post on facebook'. Try the different ways mentioned over here to solve the facebook post problem.
Author