Most of us know that Spotify might good at much other stuff but it definitely sucks at shuffling music. Like how can you suck at shuffling? Anyways many users are frustrated at this because some people claim to have playlists with over 2000 songs but Spotify only plays the same 50 songs all the time. There are complaints dating back to 2014 when people were complaining about Spotify shuffle sucking and looks like to this day it still hasn't improved and still sucks pretty bad.
So what to do? Some users have come up with some interesting solutions on their own and we have gathered the working ones for you right here –
Randomize Manually
Well, one user found that if you manually randomized your playlist, then shuffle seems to be working better than before. But how to do that? Before that let me just tell you that this trick will only work on the Spotify desktop app and not on mobile apps. Let me show you exactly how you can manually randomize your playlist –
First open your playlist, from your library on the Spotify desktop app. Then click on one song inside it and you will see that it gets highlighted, which means it got selected. Now press CTRL+A, this will select all the songs in the playlist and now press CTRL+C, this copies the URLs of all the songs present on your playlist.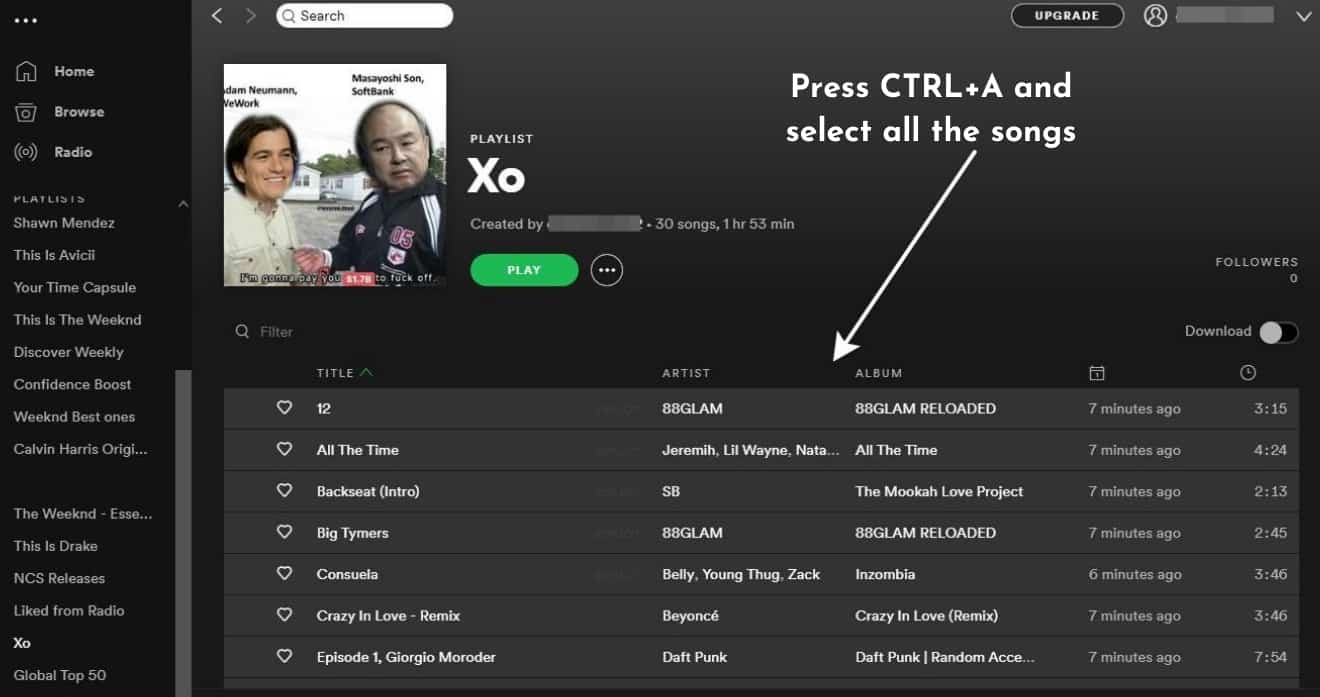 Then head over to this online text randomizer tool and paste the URLs you copied in the text form. Then click on the 'Randomize Lines!'  button 2-3 times, this will randomly shuffle all the URLs. Copy the new randomized data by pressing CTRL+C.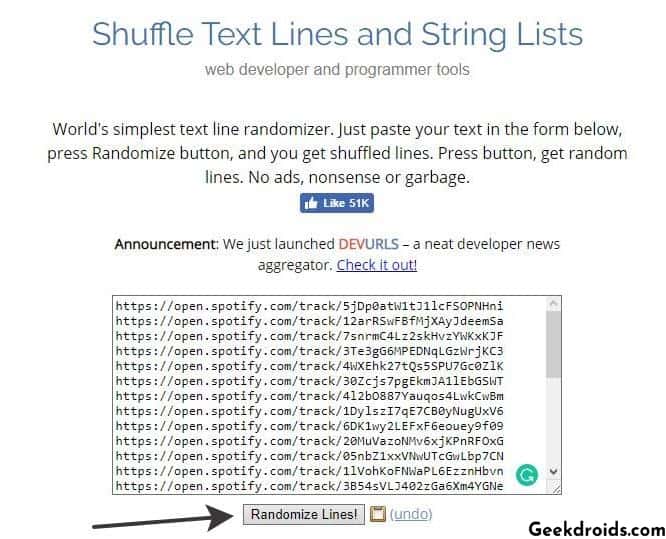 Now head back to the Spotify app, now if you want to keep a backup of your current playlist, then create a new playlist and press CTRL+V and paste the data you just copied from the site. You will see all your songs added in the new playlist but in a randomized order. You can even paste your URLs in the old playlist if you don't want to keep any backup, that also works.
Now try shuffle playing your songs from the new randomized playlist and see if the same songs play again and again or new songs keep popping.
Restart or Update Spotify app
This is the same thing we try, whenever we face any problem with any apps, I am pretty sure that you have already tried doing this but if not then surely try once and see, because most problems get solved by simply restarting or sometimes by simply updating the app. Update your Spotify app, if you are on Android then go to the Play Store and update the app, if you are in iOS then go to the App Store and update the Spotify app. If you are on your desktop or laptop, then head over to the official Spotify website and download the latest version of the Spotify app.
Now after updating, try shuffle playing one of your playlists and see if it plays the same songs again and again or this time random songs from all over the playlist starts playing.
Sort the songs
Spotify offers you with some Sort options for playlists like you can sort songs by title, by recently added, by artists, by albums or custom(the first method that we showed you). The sorting can work both in ascending and descending ways.
Open up your playlist and then click on the three dots menu at the top right corner, then tap on 'Sort playlist' and then choose any condition your like and then tap on it. You can again tap on the same option to change the order to the opposite to whatever it was earlier ascending or descending. Now try playing your playlist and see if it works smoothly or not.
To do this on the desktop app, simply open up your playlist from the library and then click on these headers to sort playlist in any way you like and then start shuffle playing your playlist.
Use third-party tools
Someone has developed this Spotify shuffler, in which you just have to sign in with your Spotify account, then give this website the appropriate permissions from your Spotify account and then this website imports your playlists and then you can shuffle them with a click of the button. This is same as the first method but here everything happens with a click of a button and there you had to copy and paste everything manually. Here is the method to use this website to shuffle your Spotify playlists –
First, open the website and then click on 'Sign in to Spotify'.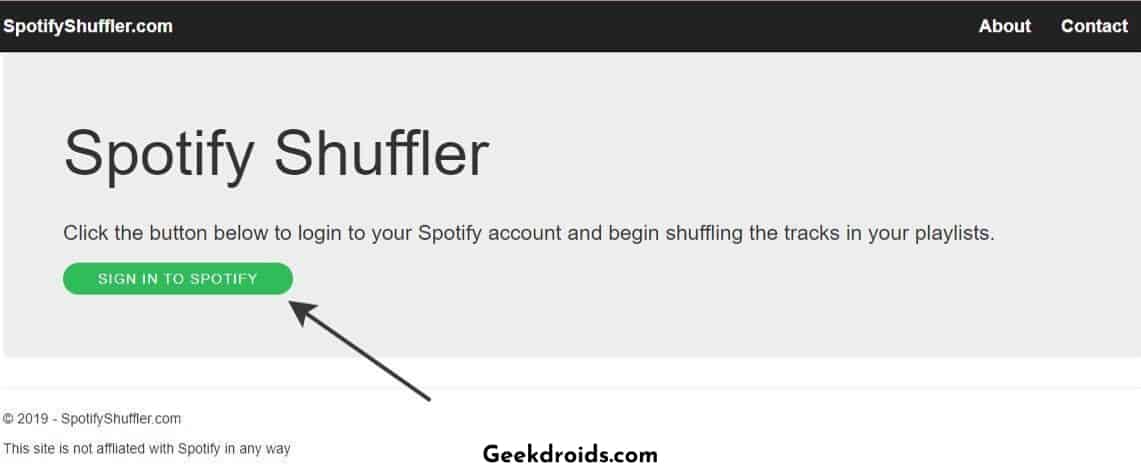 Then the Spotify login page should open up, enter your login credentials and then grant the required permissions to this website and then let the website load all your playlists.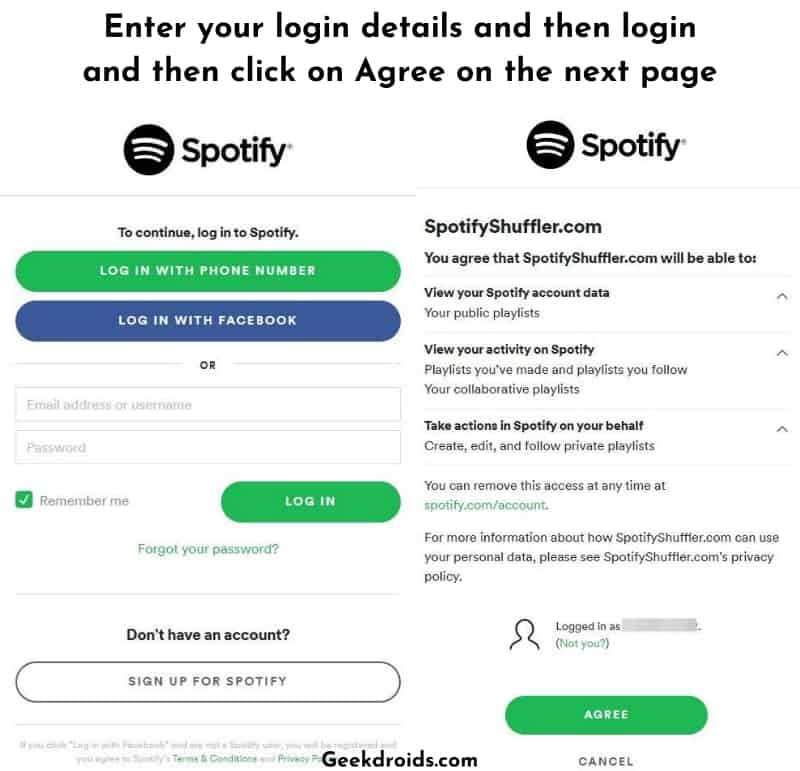 Then the list of all your playlists will appear, now press the Shuffle Playlist button beside the playlist that you want to shuffle. Now, remember in order to modify a playlist you must have created the playlist or must have permissions to modify it otherwise you cannot shuffle it. Then you will see a message that your playlist has been successfully shuffled or randomized.
Now go on to Spotify and play your playlist by shuffling. By now your problem should have been solved. If you got any other solutions for us, then make to let us know so that we can update it over here and that would help others who are also facing this problem.
Summary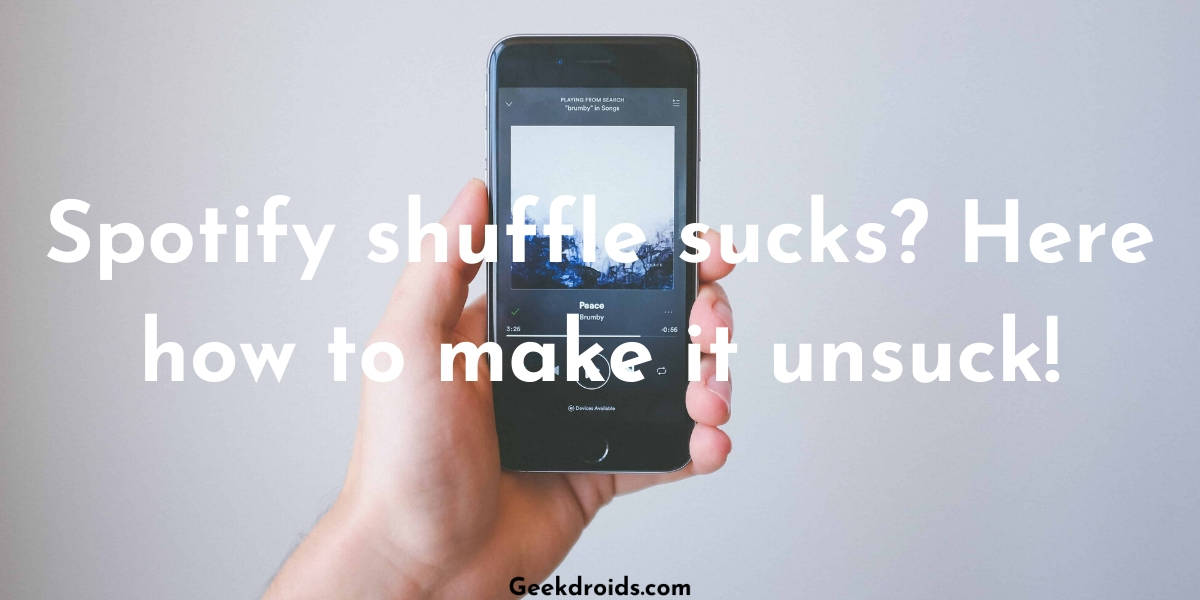 Article Name
Spotify shuffle sucks? Here how to make it unsuck!
Description
Spotify shuffle not working well? Learn here how to make it work the right way and play all the songs
Author