There was a time back when the Spotify desktop used to be great and had many features which were loved by its users. One of the many features which was very much loved by its users was the Spotify mini player. You could be working, writing articles and listening to music and a small player would play in the bottom, from which you could control the music and you would not have to open the Spotify app repeatedly to control the music. Spotify also did run a vote over here, for implementing the Spotify mini-player but later closed and responded as it only affects a small subset of users, they will not implement it now but will think about it later.
The player used to be sometimes known as the Spotify popout player or the Spotify desktop player or the Spotify desktop widget and there were many other similar names among users. Is there a mini-player for Spotify? Right now there isn't one that is officially available from Spotify but there are several other different ways to get one, which we have shown below.
Currently, there is no official Spotify mini-player available from Spotify but there are many third-party open-source projects on Github, which do the job or even there is one little nifty trick which we have shown later in the article, where you don't have to install any third-party software to have a Spotify mini of your own.
How to make Spotify mini-player?
As we mentioned there is no official mini-player from Spotify but there are several other ways to get one. Let us show you the different ways to make your own Spotify mini-player –
The Chrome App method
Chrome is a wonderful web browser with tons of features, which a normal user might not know about. It is notorious for high ram usage but it makes up for it with its features. One of these useful features is that you can open websites in-app mode, which means there no address bars, no extensions, no menu items, no distractions, only the website. So when you open Spotify in app mode and then resize the window according to your choice, you have your own Spotify mini-player. Let us show you how you can open Spotify in chrome app mode.
Firstly open chrome and make sure you are logged in with your Spotify account. Then close the chrome tab and open Windows Run, by pressing the Start button+ R simultaneously and then enter this into the run window –

chrome --app="https://play.spotify.com"
Then you will see Spotify open inside of Google Chrome but without any distractions from the browser, just the website which is the Chrome App mode. Now start playing your favourite music and then click on this small screen button beside your song controls. You will see a small mini-player popup. There you have it your own Spotify mini-player and relatively easy to set up just a few clicks and a few seconds. Definitely much easier than installing other third-party projects from Github and when most of them have not been updated in many years.
But there are several other users who don't use Chrome as it often uses a lot of RAM and maybe their systems don't support that, what about them? Well if you are one of them you don't need to worry as we have a solution for you also.
Third-Party Mini Players
There are several mini players developed by developers who also wanted this feature and then open-sourced on Github. But there are several of them and many have not been updated in a long long time. Here we are showing you one project that was updated recently from Github and another mini player which software which seems to be up to date.
This is a small part-time project started by this Reddit user and it seems that it was last updated 2 months ago since when we wrote this article. So here is how you can install it and get it working on Windows laptop or desktop –
First, go to this releases page and download the latest version and then install it on your computer like you would install any other application as simple as it is.
Then right-click on your taskbar and then click on Toolbars>Audioband. You will see that the Audioband player control strip will start showing on the right side of your taskbar.
Then again right click on the strip and then select Spotify from under Audio Sources.
Now the basic set up of Audio Band is done, now you need to set up a few things inside your Spotify dashboard so that you can sign in Audio Band with your Spotify account. First of all, go visit this link and log in with your Spotify account. If it's your first time, then accept the terms and conditions and then proceed.
Now click on Create an App and then a popup will appear in which you have to enter the details of the app you are creating. Just enter as we have entered in the screenshots below and then click on next. Now we are not developing anything for commercial usage so select No in the next step. Then in the next window, tick all the boxes and then click on submit.
After you have created your app, click on Edit Settings and add " http://localhost:80 " to the redirect URL without the quotes and then add it and save it. After that copy your Client ID and Client secret from your app dashboard.
Paste Client Id and Client Secret inside Audio Band settings. Then your browser will open and you will have to sign in with your Spotify account. Click on Agree then and you are done you can now play music inside Audio Band with your own Spotify mini-player.
There is also another similar application known as Alfred Spotify Mini Player which has a similar setup to that of Audioband, so if Audioband, in any case, did not work out for you then try this one.
Summary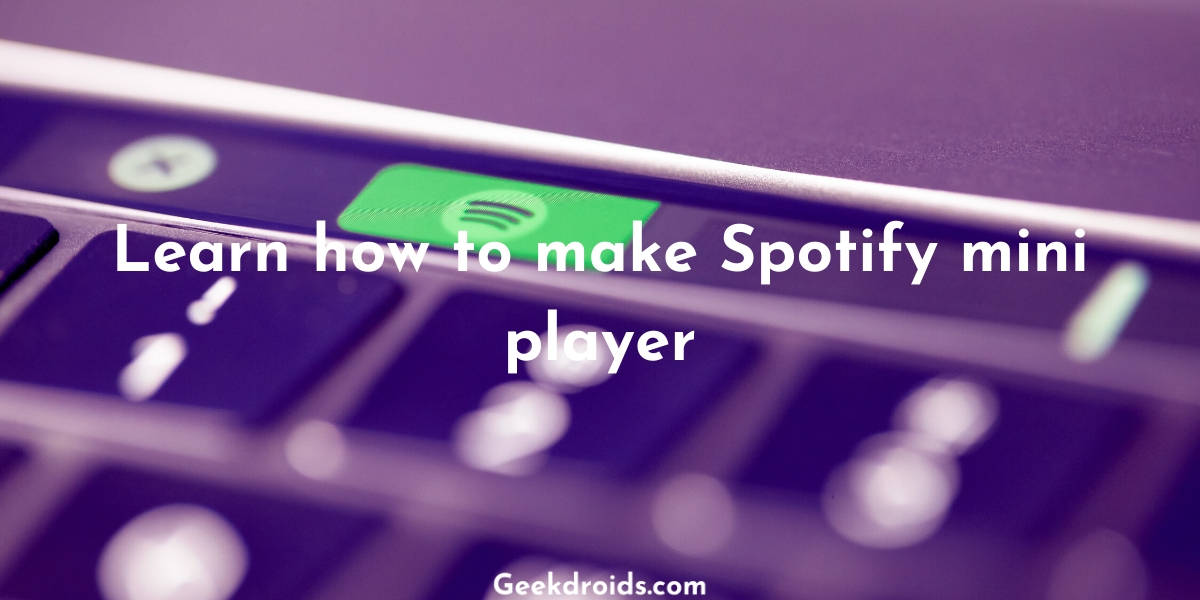 Software Name
AudioBand Spotify Mini Player
Operating System
Software Category