Spotify is one of the most used music streaming apps worldwide. It is used by millions of people every day, to be exact 232 million monthly active users. Now a lot of these users like to listen to music at night time or while going to sleep. Some people have insomnia and they can't fall asleep naturally. Some kind of soft and soothing music surely helps in falling asleep faster. Many others like to listen to a podcast or an audiobook from Spotify while going to sleep. Each one of us has our own method of falling asleep. A sleep timer inside of the Spotify app has been a long-requested feature for the music app. People have literally spammed their community forums and twitter requesting this feature.
Spotify has clearly done the unthinkable and added the long-awaited feature and is already available for both Android and iPhone. It was being requested for a long time and users were getting furious about how long Spotify was taking in implementing it.
Here let me show you how to set up the sleep times inside of Spotify app –
How to Set Sleep Time on Android Devices in Spotify
Since Spotify included the sleep timer in the android version, it is now quite easier to set times, or else earlier you had to use another third-party app to set the timer and many apps would not work and the music would play on all night, till morning, it was a complete hassle. Now you could just start a song and then put a timer in the app and it will automatically stop the music. Let me show you how to do that.
Open up the Spotify app and then start the song you want to listen to and then click on the three dots button in the top right corner like shown below.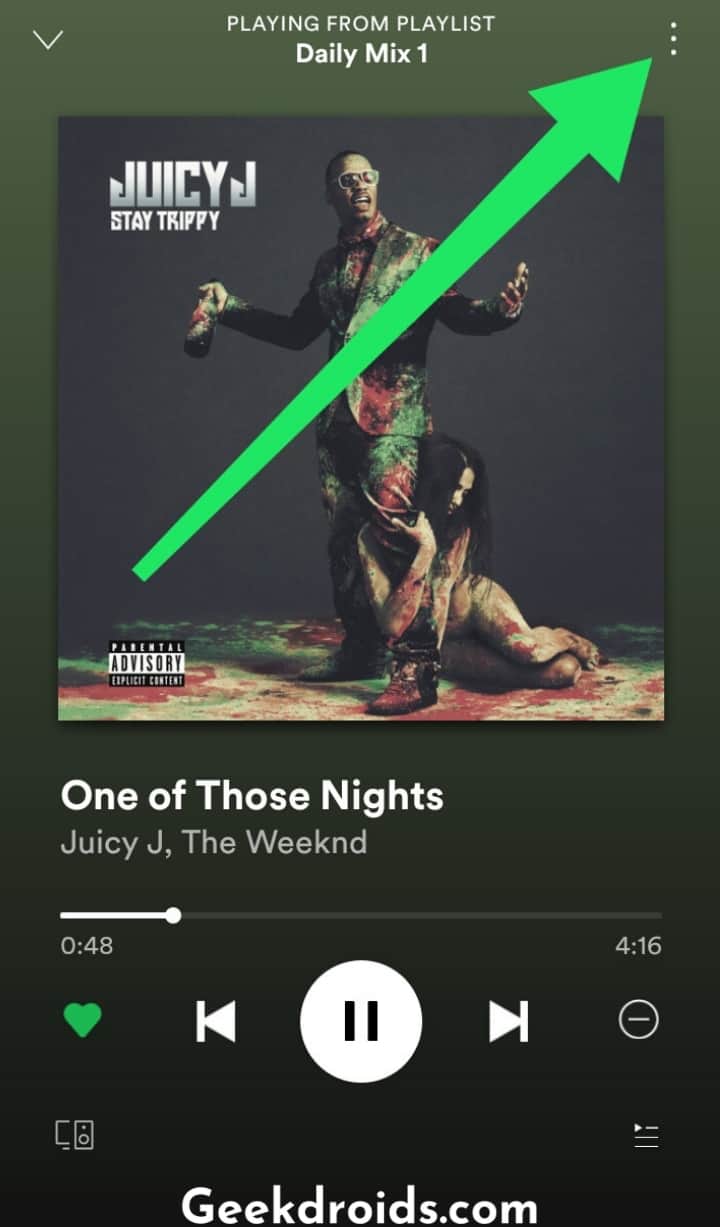 Then a set of options will open up, scroll download and find the option "Sleep Timer" and then open it.
After opening it, different interval of times will open up and you can set the time after which you want the music to shut down.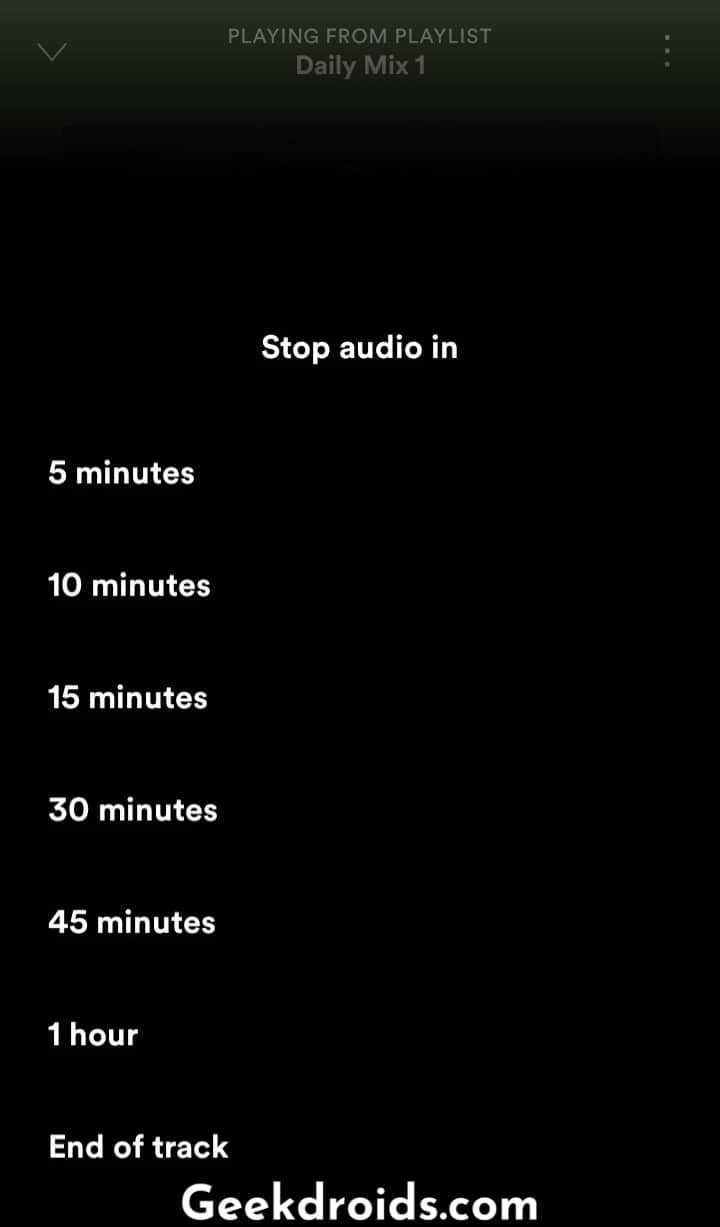 Done! Your music will turn off after your determined time.
How to set Spotify Timer on iPhone
Its is fairly easy and same to set the timer inside of Spotify app on your iPhone like any other Android Device.
Open up the song you want to listen.
Then click on the three dots in the top right corner and open the "Sleep Timer" option.
Then set your preferred time from the given options and then set it.
Done! Your music will shut off in your predetermined time.
Spotify allows a max till 1 hour of time till which you can set the sleep timer or you can also set the time to end at the time when the current track or podcast ends.
That's how you can set up a sleep timer for your music streaming needs while going to sleep, now you set the timer inside Spotify and you don't have to depend on any third-party apps todo that for you.
Summary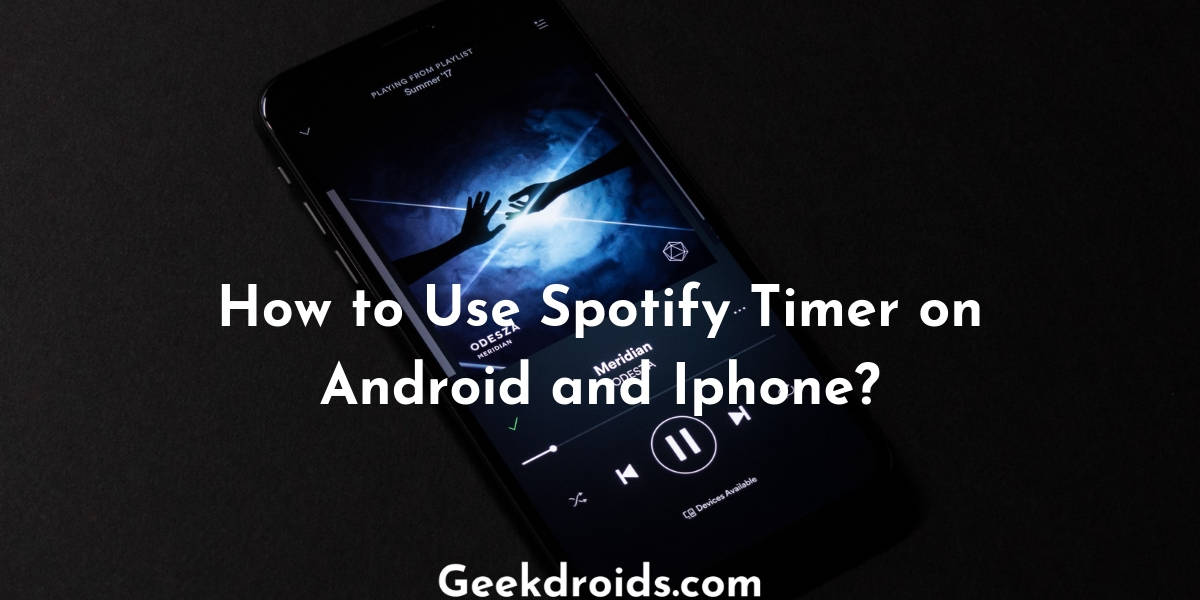 Article Name
How to Use Spotify Timer on Android and Iphone?
Description
Learn how to use the new Spotify timer inside of the Spotify app in your Android and iPhone devices.
Author