Netflix is a very popular music streaming service with users from all around the world. They are available in almost every country in the world except for a few. There are times when users of giant companies do run into problems and most of these errors can be dealt with easily since there are multiple tested solutions available from people all over the internet. But the usual problem with errors on Netflix is that they are not very clear with where the glitch is and the error codes usually provide too little information to actually look into.
But you can always search for the error codes and land on articles like these, when you searched "Netflix site error" and landed over here. This error has been plaguing many users and is very similar to the netflix code ui-800-3 error code because both errors are caused by the effect of information or data stored on your browser or streaming device that needs to be refreshed or re-downloaded because it has changed. Or sometimes even the 'Netflix site error' happens because of a network connectivity issue which means that there could be some problem with your wifi network or network connection which you need to check out.
What does 'Netflix site error' mean?
You will usually come across the 'Netflix site error' when you are streaming from a computer on a browser like the Google Chrome or Mozilla Firefox. This happens when there is a conflict between the data that Netflix has stored on your browser vs the data that they have on their servers. Or could also be as some users reported that this happens when there is a network connectivity issue which means that there is some problem with your wifi connection. Also, this error is known to show when you are streaming on the Netflix.com website in your browser.
How to fix Netflix site error?
There are many different ways in which the 'Netflix site error' can be solved and here are some solutions for this site error which you can try and see if it works for you or not. These solutions were reported by different users on different forums to have helped them to solve the Netflix site error.
Clear Browser Cache & Cookies
Clearing your browser cache should be your first course of action. As this error is mostly caused by information stored on your device, so it makes sense to clear it once. Head over to your browser settings and then simply search for 'Clear browsing data' or expand the advanced menu and then under Privacy & Security you will find the 'Clear browsing data' option. Click on it and then tick the 'Cached images and files' and then click on 'Clear data' and then all your cache will be deleted. Be alert to not tick the 'Cookies and other site data' option, then it will clear all website data and you will be logged out of all the websites from that browser.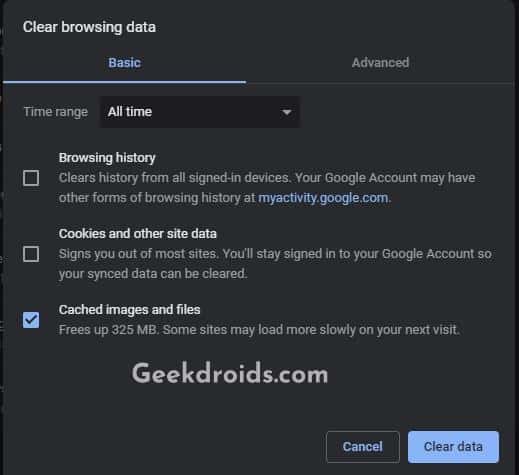 Then open netflix.com in the same browser and then click on the lock icon, which is located at the left side of the address bar. Then a small window will open up and then click on the cookies option in it.
Then in the middle of the address bar, another small window will open up, inside it select the netflix.com cookies and then remove them one by one. Then done, you have successfully removed your cache and Netflix cookies.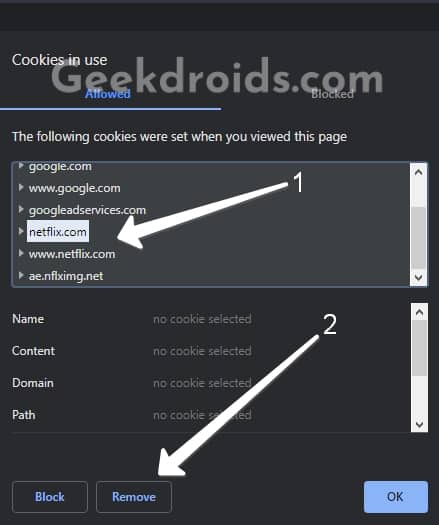 Now restart your browser and then open Netflix and then sign in to your account. Try to stream now and see if it streams without any problem or not. If not then look below to the next solution.
Check your Network Connection
Many times this notorious 'Netflix site error' is said to be also caused by problems in your wifi network. Check if there are any problems with your router or check your network ping and see if it's stable or not. If not then inform your service provider to get it fixed.
Try turning off your computer/laptop once and then power off and unplug your router, then replug it and turn the power on. Startup your device now and try to open Netflix.com in your browser and try to stream. If nothing works, try using your mobile network on your computer by sharing via USB tethering or WIFI hotspot and see if you are able to stream Netflix.
Disable third-party tools
Disable any kind of third-party tools or extensions that you might be using to stream content on Netflix. Many of us use adblockers to block annoying ads on the internet but sometimes a few adblockers can cause trouble with other websites that it's not supposed to block, like Netflix. So disable any adblocking extensions you might be using and then try to stream Netflix. You can simply right-click on the extension icon in your browser and you will get the option to remove or disable it.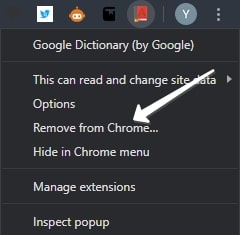 Now if you are using any VPN service to bypass geographical limitations on content streaming, then this can also be a cause of the error. There are many popular TV Shows and movies which are not available to in certain countries even though Netflix is a global service due to licensing agreements with the copyright owners. So to bypass this many people started using VPN services to hide their real locations and stream content that is unavailable in their countries. Now in order to tackle this, Netflix blocks the IP addresses of most major VPN services providers. So turn off your VPN, clear your browser cache and then try streaming again and it should work.
Some services like Windscribe and Nordvpn still work sometimes with Netflix, so you can look at those for streaming Netflix.
Try Incognito Mode
You could give a try to your browser's incognito mode to stream Netflix. In Incognito mode no settings or cookies from the past that you have set and cookies from websites are available. So when you view a website in incognito mode, no data from previous visits are used and no data from that visit is saved. And none of your browser extensions works in incognito mode, so there would be no interference from them. So you can sign in to your Netflix account and try streaming Netflix to see if it works without any trouble or not.
You can open Incognito mode from the three dots menu in your browser at the top right corner(depends on your browser) or you can use the shortcut – Ctrl+Shift+N or Ctrl+Shift+P(depends on your browser) to open an Incognito window.
Switch User Profiles
Some users on Reddit suggest that switching your user profiles often help in going around this error and the error with the original profile usually gets rectified within 24 hours. So just switch to another profile on your Netflix account and watch your content.
Just Wait & Have Patience
If none of our above solutions worked for you and also the Netflix support was unable to rectify it for you, then we would suggest you to just wait it out. Just wait for a few hours ideally 24 hours, as some people reported on support forums, the matter usually gets solved on its own. Netflix could also be down or might be experiencing problems on their end, so it would be wise to check with their support or sites like isitdownnow or downdetector.
Summary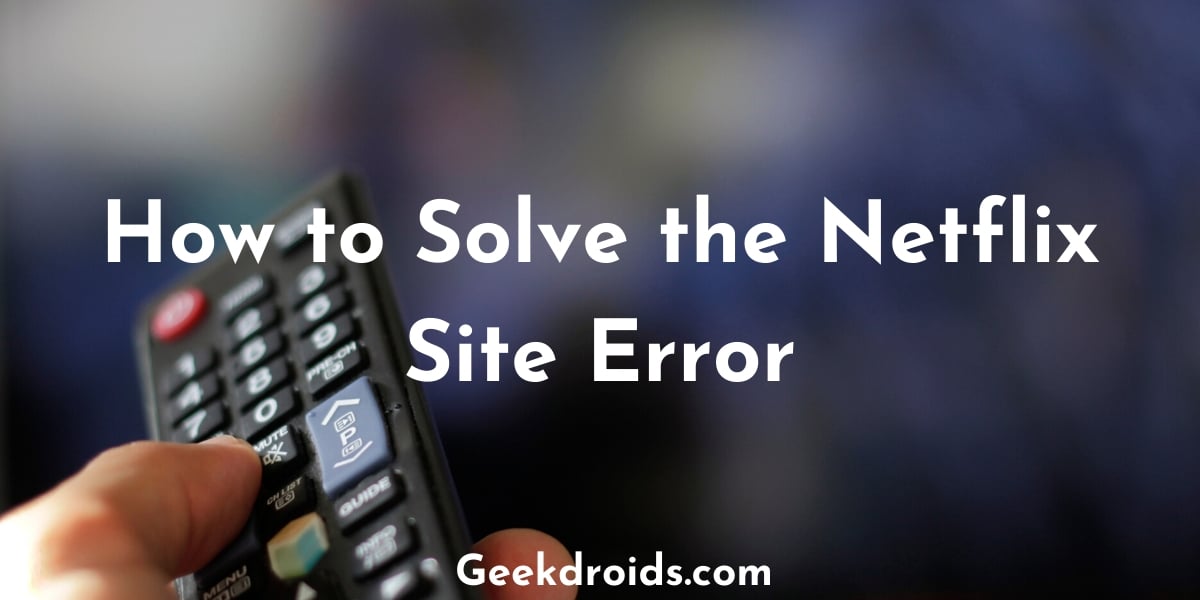 Article Name
Netflix site error - Solved
Description
What does Netflix site error mean? How to solve the Netflix site error? How to fix Netflix site error on mac or windows?
Author