Netflix as we all know the global streaming service available in almost every country in the world. But unfortunately, not all of its content is available to stream everywhere. Geo-blocking of content or regional restrictions on most content apply because of copyright agreements with the companies that own them. Now in order to bypass this restriction and to binge-watch their favourite content, people started using VPNs or Virtual Private Networks. These services mask your real IP address and present their own collection of IP addresses to the websites you visit.
And to the websites, it looks like you are accessing the website from the USA but even though you actually live in India. Which means that while living in India you can watch the content that is exclusive for American viewers or is restricted in India. But Netflix quickly became aware of this practise and started cracking down on this. They started blacklisting IP addresses from VPN services and now when you try to stream with a VPN, you are presented with error code: m7111-5059.
Usually, you will get the error as " You seem to be using an unblocker or proxy" or like the one shown in the image below.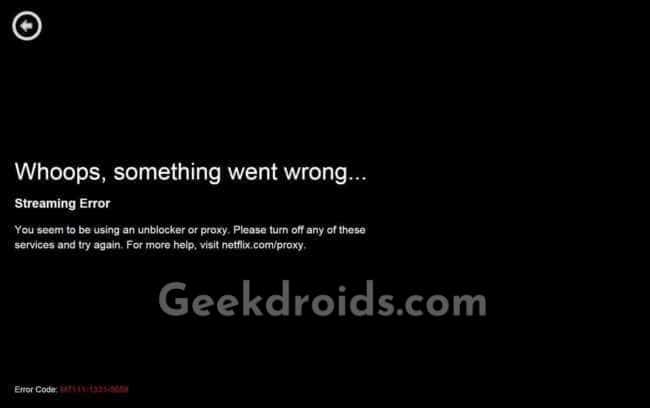 What does the error code: m7111-5059 mean?
The error code error code: m7111-5059 simply means that you are either accessing Netflix through a VPN or through a proxy server and Netflix has detected that. You need to turn the VPN off in order to continue streaming. To prevent the bypassing of regional restrictions on content, people started using VPNs in order to mask their real locations. So For example, if you are in London and wanted to view any piece of content that is only exclusive to Japanese viewers on Netflix, you could do that by connecting on a Japanese Server inside a VPN service.
Now Netflix became aware of this and they started blacklisting the IPs of the major VPN service providers, as a result, anyone using those VPN services to access Netflix started seeing this annoying error m7111-5059. Even if you are not using a VPN to access Netflix, there are proxies which you could be using and many of those are also blacklisted by Netflix. Or if you are using tunnel brokers, then these are also despised by Netflix. Or if you are using protocol tunnelling which routes IPv6 traffic through IPv4 connections, but Netflix does not support this, therefore you might see the same error if you are using this method to access Netflix with.
How to fix the m7111-5059 error?
There are definitely a few different ways in which you could fix the m7111-5059 error that you are getting while browsing Netflix. First of all make of these few things.
Disable Proxies & VPNs
If you are using any VPN service to circumvent the Netflix restriction on your favourite content, then you need to stop doing that, that VPN is the cause of this error m7111-5059. Netflix blacklists the IP addresses that these VPNs use and if you use one of the blacklisted ones you will see this error while trying to access Netflix. But there are still a few alternatives which seem to be able to stream Netflix, Like NordVPN, Windscribe and VyprVPN. These are some VPN services that seem to be working with Netflix, so if you want to stream Netflix and watch content that you can't in your country, then your best bet is to buy a subscription plan of any of these VPNs and then streaming Netflix with it.
If you are using any kind of tunnel broking mechanism, then that is also not allowed by Netflix, tunnel broking is usually used in many big companies. If you are using the special kind of proxies that use protocol tunnelling to route traffic, then it's not supported by Netflix. Protocol tunnelling basically is the way of routing IPv6 traffic over IPv4 connections. This kind of arrangement is not supported by Netflix but if you have an IPv6 connection that is natively provided to you by your ISP then it's fine and Netflix will work normally.
Even if you are using any proxies to browse the internet, then it could be also blacklisted by Netflix, and Netflix advises to stop using any service that might route your traffic from someplace else other than your current region and to use your network in Automatic settings. Also, as Netflix says that they understand that many people these days use VPNs for privacy but there is no proper way for Netflix to verify that if it is being used for legal reasons or not, so they advise to not use VPNs while streaming from Netflix.
Here's how to disable any proxy connections that might have been set up on your computer –
First, press the Windows button + R and the Run window will open up. Then type inetcpl.cpl and then press enter.
Then click on the Connections tab and then on Lan settings. Untick the 'Use a proxy server for your LAN'.
Then click OK and it will be saved. Now try streaming on Netflix again.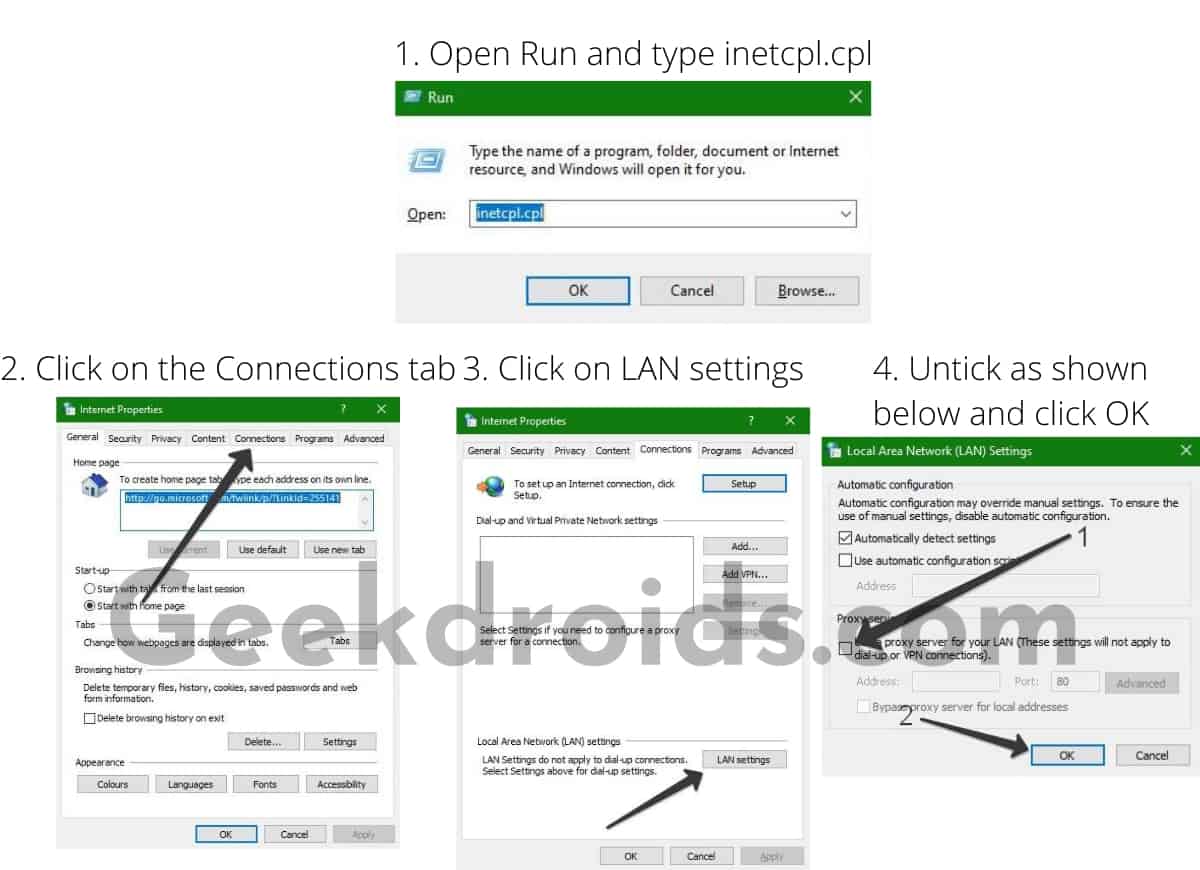 Clear Browser Cache & Cookie
Well if you are not using any kind of VPNs or proxies but still receiving this error, then this error could also be possible because of data stored on your device. This data needs to be cleared in order for Netflix to perform properly. In order to clear cookies and cache in your browser follow the steps below.
Just open your browser settings and then head over to Advanced settings.
Then under the 'Privacy & Security' section, you shall find the option to clear your browsing data.
Click on that and then select only the 'Cached images and files' option, as selecting the Cookies option will log you out of all the websites in that browser.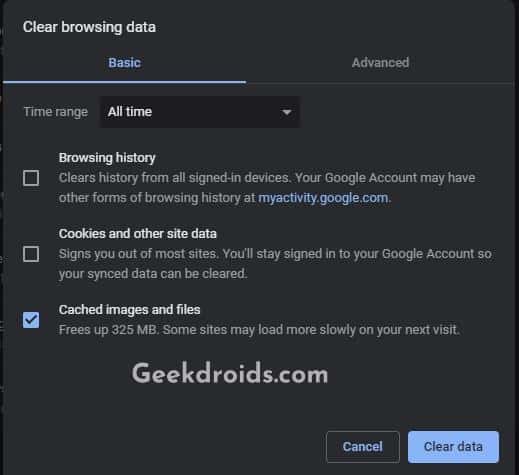 And now in order to clear you Netflix cookies, follow these steps below –
Open the Netflix website on a new tab in your browser.
And then click on the lock icon beside the address bar and then click on the Cookies option from the small window that appears next.
Now another small window pops up and then inside select the Netflix.com cookies one by one and start removing those. After that restart your browser once and then try streaming Netflix again.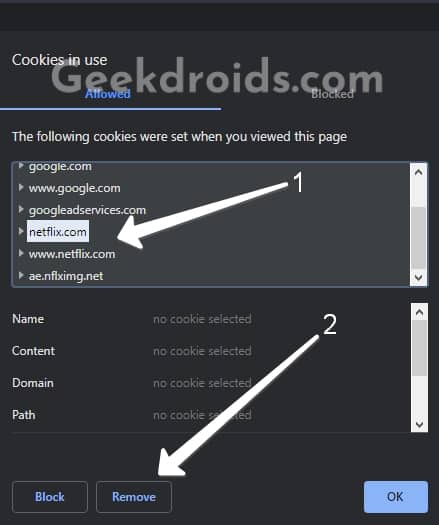 If none of the above solutions worked for you, then you could try changing your DNS settings and setting the DNS servers to that of Google or Open DNS. You can change the DNS settings in your computer by going to your Network adapter settings but if you have a WIFI connection, then you need to change these settings in your WIFI router. The DNS servers of Google are 8.8.8.8 or 8.8.4.4 and Open DNS's servers are 208.67.222.222  and 208.67.220.220. You can look in your router guide or go to your router company's support website for instructions on how to change the DNS server. Although many have argued that this does not bring much success.
If you have a static IP address and you keep seeing this error often, then you should inform your Internet service provider about this development. Only they will be able to help you with this, as your IP could be spammed or something fishy might be going on in their network, which they should check for.
Summary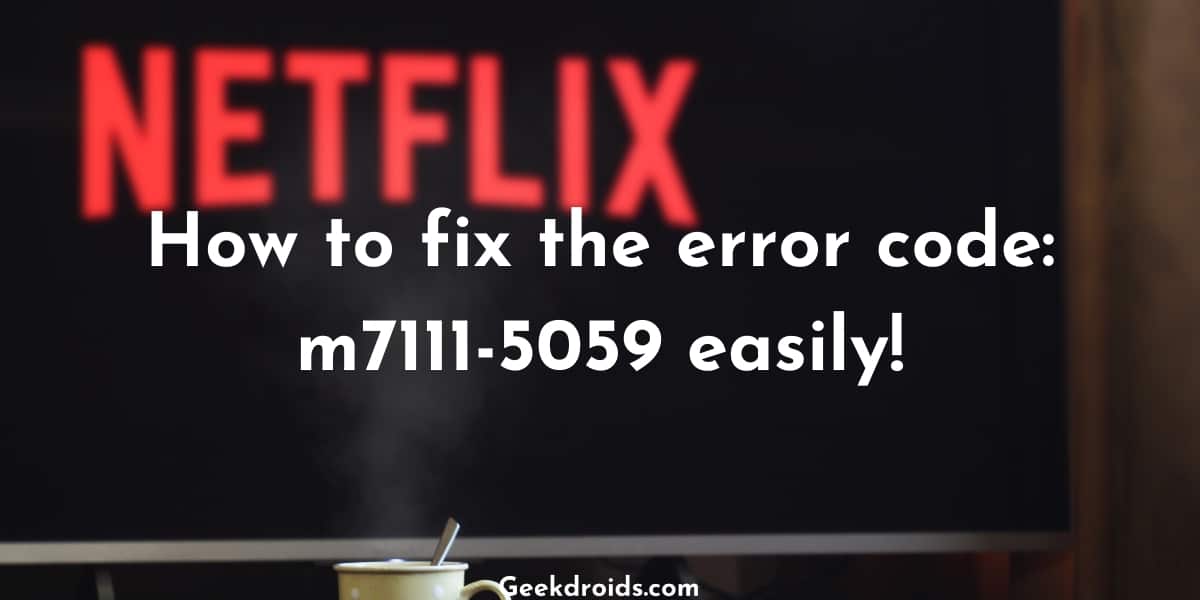 Article Name
How to fix the error code: m7111-5059 easily?
Description
Here's how to fix the m7111-5059 error in Netflix easily. Which VPNs are working with Netflix know now.
Author