Whether you are joining Instagram for fun or have intentions to create a digital marketing strategy, knowing as many ins and outs of the platform will give you an advantage. There are plenty of people on the platform, enjoying themselves, and you can have a similar or even better experience. After all, the Instagram size is not getting smaller. If anything, the platform continues to grow and attract more users.
Are you not sure where to begin? If so, this article's tips are a good place to start. Find out how you can improve your Instagram experience below.
1. Follow Personalities You Like
It may be difficult to get ideas for your content, particularly if you aim to grow the account to a point when you can consider yourself an influencer. If you reach such a stage, you can make decent money.
However, before that comes, you need to figure out what you want to do on the platform. Is it creating and sharing interesting ideas? Or maybe you want to emphasize video content (Instagram has been pushing video a lot lately).
Following other profiles is a good way to get inspiration. You can think of it as market research. There is no need to treat other Instagram users as your competition, but if that helps you find motivation, go for it. The most important thing is finding something you can use for yourself.
2. Take Advantage of the Stories Feature
Stories are one of the most recent additions on Instagram. This type of content disappears after 24 hours. Stories create an excellent opportunity to tease upcoming events or share the most intimate moments of your life with the most loyal followers.
For some, the story feature may seem counterintuitive. However, the reality is quite different, as both new and established brands are taking advantage of it. You should not be sleeping on stories either. Give it a try, and you will realize how much they offer.
3. Focus on Quality
Quality over quantity. As a rule of thumb, you would be better off posting valuable content instead of spamming your account with irrelevant posts. If you neglect the importance of quality, expect a drop in engagement and people unfollowing you.
4. Stick to Schedule
Similar to quality, the schedule is another aspect that you need to emphasize, especially if you are aiming to build a brand. Once you start posting regularly, you will create expectations among your followers. For example, if you have been posting at least once every day, some people may find it surprising if they do not hear from your account for a couple of days.
Failing to stick to the schedule may lead to followers losing interest. If your engagement drops, you can forget about turning the Instagram account into a source of income.
Therefore, before you commit, weigh the possibilities and figure out how many high-quality posts you can realistically publish per week or month. Oh, and as a side note, if you want, you can use scheduling tools to publish your posts in advance. It may not seem like much, but scheduling tools can help as well.
5. Use Relevant Hashtags
Instagram users need hashtags to find the content they are interested in. If you took some time and scrolled through various Instagram posts, you would notice how the majority of them have multiple hashtags. It may not seem pretty to the eye, but hashtags are necessary to reach potential audiences.
It depends on your niche, but you should not have too many problems figuring out relevant hashtags. Before you publish a post, find out what is trending on the platform. Or, as an alternative, check other niche-related profiles and see which hashtags they use.
Keep in mind, though, that including too many hashtags in a single post may have negative effects. Try sticking to three to five hashtags per post. And since finding the right formula may take a while, do not be afraid to test different variations and see which hashtags bring the best results.
6. Engage With Other Profiles
You should not expect to get multiple people following you right away. Even if you have interesting and optimized content, people may still not bother engaging. That is why you should be the first to break the ice.
Find accounts that interest you and start liking and commenting on their posts. Not everyone will return the favour, but some might, and it will be a good start making your presence on the platform known.
7. Consider a VPN and Proxies
A virtual private network and proxies can be a life-saver if you decide to create an Instagram account network instead of sticking to a single profile. Of course, managing multiple accounts at once would be impossible on the same IP address. That is why you need proxies and a VPN.
Summary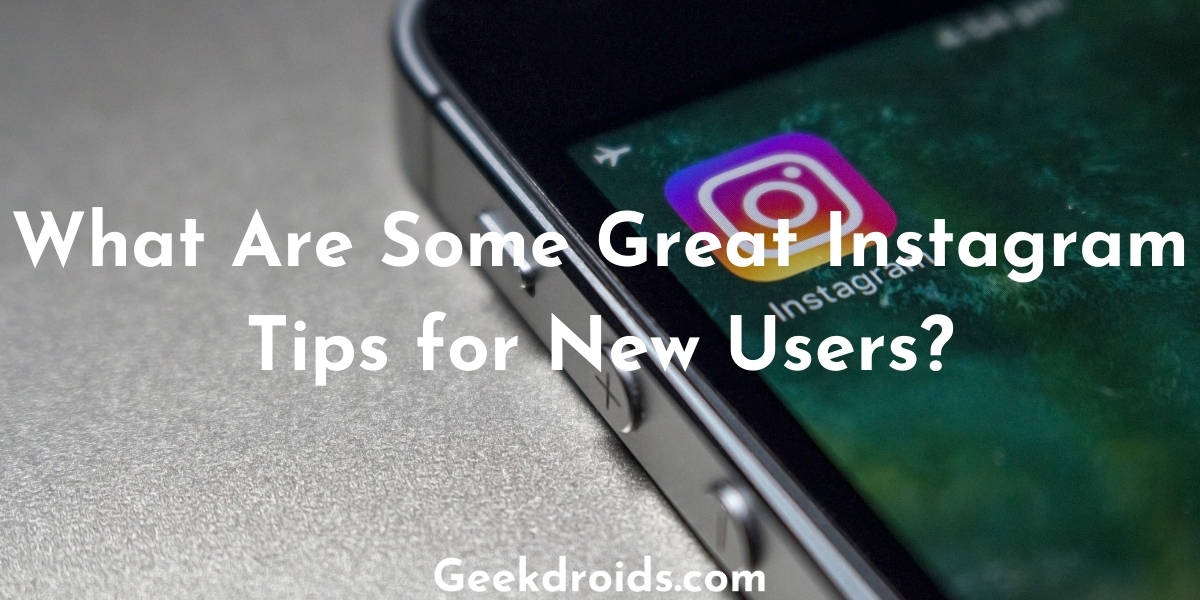 Article Name
What Are Some Great Instagram Tips for New Users?
Description
Learn about some great tips related to Instagram to boost its growth and gain lots of new followers.
Author