Netflix as well all know is the probably the best streaming service out there. But it sure does run into problems sometimes but on the client-side, as their servers are always up and bug-free and there are rarely any outages at Netflix.
Here now we are faced with a Netflix Unexpected Error, which seems to be appearing to many people and on various devices ranging from Macbooks to Windows 10 devices.
There are 4 types of Unexpected error that can be seen while Streaming Netflix and those are
Netflix just says 'Whoops, something went wrong…Unexpected Error.' It can be quickly solved with just some
Netflix Error M7037-4000-1101 – This happens because of a network connectivity issue which could be preventing the Netflix app or the browser whichever you are using to stream, from reaching the Netflix servers.
Netflix Error S7363-1260-0000230D –  This usually occurs in your Mac computers and this is because of some issue with your DRM software.
Netflix says 'Whoops, Something Went Wrong (F1).' – This is a sporadic error in your Windows 10 Netflix app and this one is also very easy to deal with.
Whoops, something went wrong..Unexpected error
This error is usually seen in Netflix where there are some problems with the data stored on your browser and refreshing or redownloading that data will solve your problem.
How to fix Netflix unexpected error?
There are two simple ways to solve this Netflix unexpected error and those are –
1. Clear Cache and Cookies.
The first thing that you should try in order to get out of this mess is to clear your cookies and cache in your browser and then try any other solutions. Here is the process for clearing cache in your respective browsers –
Google Chrome
To clear cache in your Chrome browser, First head on to your settings and then to Advanced settings.
Then just look for Privacy and security and under it, click on 'Clear browsing data'.
Then select the option 'Cached images and files' and then click on 'Clear data' and then it's done. Your browser cache has been cleared.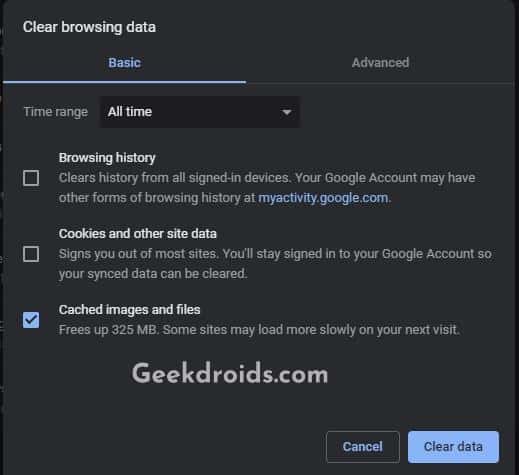 You should not tick the 'Cookies and other site data' option on here, as if cleared then it will log you out from all the website. If you want to learn how to just clear Netflix cookies then click here.
Mozilla Firefox
Now in order to clear cache in your Firefox browser simply, click on the hamburger menu at the top right corner.
Then from the various options click on the 'Options' one.
Then the settings tab will open up and inside it, you should see a search box. Write 'cache' in that and then wait for it to load.
Then under the 'Cookies and Site Data' column, click on the 'Clear Data' button. Then a smaller window opens up and inside it only tick 'Cached Web Content' if you just want to clear cache, else tick both 'Cookies and Site Data' and 'Cached Web Content' in order to clear both cookies and cached web data from your Firefox browser. After that press, the 'Clear' button and the options you selected will get deleted.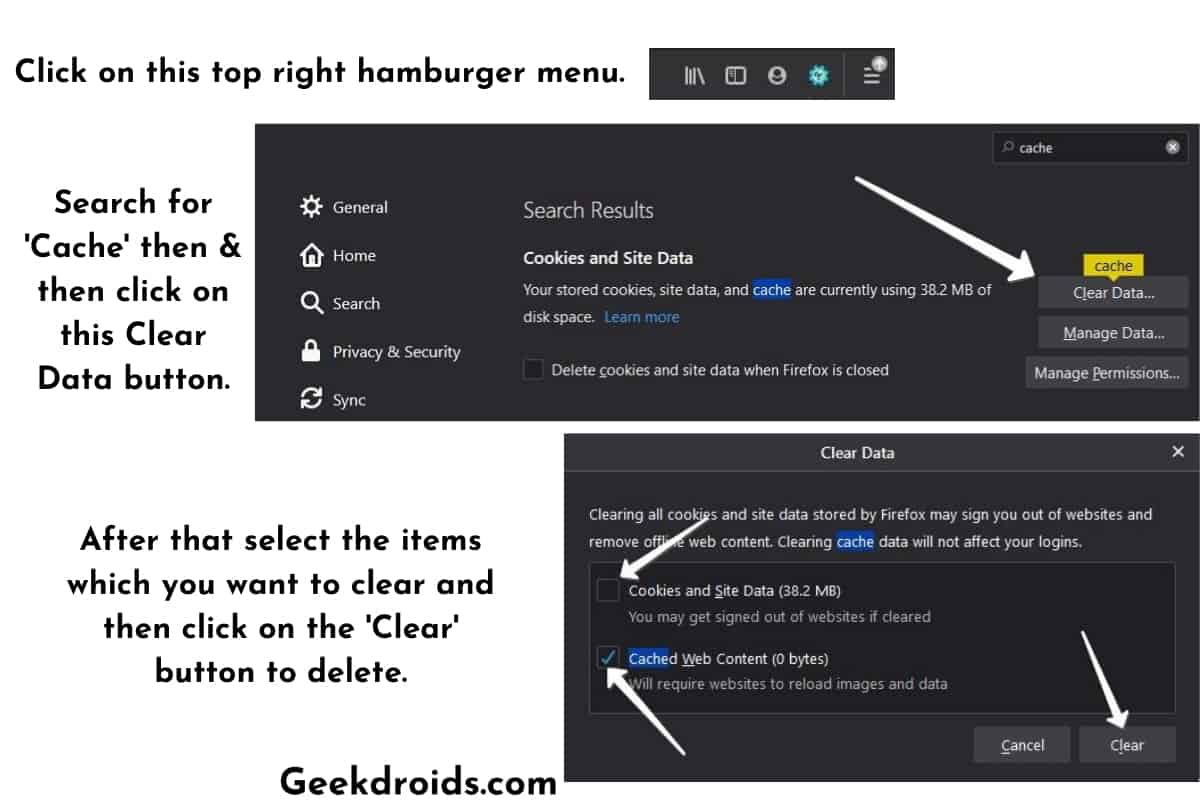 Opera Mini
To delete cached web content and cookies in your Opera Mini browser, then open the Settings menu from the top left menu option or you can also press ALT+P to open the settings tab.
Then click on the Advanced option from the left pane and then scroll down to the 'Privacy and security' subsection, then under that click on the 'Clear browsing data'.
Then another window also opens up, then select the items you want to clear, select 'Cached images and files' and 'Cookies and other site data' to clear web cache and cookies and then click on the 'Clear data' button to delete.

Safari
If you are using the Safari browser on your Mac computer or Mac book, then you can try restarting our device once, if you are facing this unexpected error with Netflix.
If restarting it did not help, then go to your Preferences and then 'Privacy' and under the option 'Cookies and website data', untick the option 'Block all cookies' or instead tick the 'Allow from websites I visit' option. Then save it and try streaming Netflix again.
2. Some Other Solutions
Some other ways that you could try solving this unexpected error are –
First, check if Netflix is working properly or not, of it has gone down and if its servers are responding or not? To do that simply go to twitter and check Netflix's official twitter support page or check websites like isitdownrightnow or downdetector.
Then try resetting your browser settings, simply go to your browser settings page and scroll way down to the absolute last and you should be able to see the option to completely reset your browser settings.
Lastly, try updating your browser to the latest stable version which is out there. In order to check for updates inside your browser, simply go to the menu option and there should an option to check for updates or under the about menu.
Netflix error m7037-4000-1101
This is also a kind of an unexpected error in Netflix and this occurs when there is a network connectivity issue in your computer. The network connectivity issue in your computer is preventing the app from reaching the Netflix servers and hence you are seeing this m7037-4000-1101 error.
How to fix m7037-4000-1101 Netflix error?
Since this error concerns your network connection, the first place to look at would be your Wi-Fi router, check if all the wires are connected properly or not and also check if your router internal settings are all properly configured or not. If all these are taken care of then try these solutions next –
Restart your router once, try unplugging and then replugging the LAN and WAN wires in the router and then turn it off and then again turn it on. Also, try restarting your computer or laptop whatever device you are using.
Try improving your Wi-Fi signal by bringing your router near your device or connect your device directly to your router via an ethernet cable.
Don't use any VPNs or proxies to connect to Netflix, as Netflix blocks these and does not allow people to stream using those. So if you are using any of them, then disconnect it and then try streaming Netflix.
Also if you have modified your connection settings in your router in any way, you might want to try resetting it back to the settings that your service provider setup for you.
If you are using a cellular network, then make sure that the network is strong and fast enough, even for your Wi-Fi network ensure that you have sufficient speed and bandwidth.
Netflix Error S7363-1260-0000230D
This is the third kind of unexpected error in Netflix and it is usually seen on Macbooks and Mac computers and the main reason behind this error is a DRM(Digital Rights Management) issue. DRM is a set of tools or technology protection measures which are a set of access control technologies for restricting the theft of copyrighted works. Netflix uses it to authorize the playback of copyrighted material and to protect that copyrighted material from piracy.
How do I fix Netflix Error S7363-1260-0000230D?
The only ways on which you can solve this are –
Close all other media players that are running like Youtube, Quick Time and iTunes. Force quit them if necessary and also force quit your Safari browser once and then try streaming again.
If force quitting does not help then, I suggest to restart your device once and then try streaming Netflix.
If Safari keeps on giving you the same error, then it might be time to change browsers, try using Google Chrome or Mozilla Firefox. If even changing browsers did not help, then try to stream on another device.
Netflix says 'Whoops, Something Went Wrong (F1).'
This unexpected error can be seen by users of the Windows 10 Netflix app, which can be downloaded from the Microsoft Store. This error again is caused by information or settings that are stored on your device and that needs to deleted or refreshed.
How do I fix Netflix says 'Whoops, Something Went Wrong (F1).'?
The only way you can fix this error is by uninstalling and then reinstalling the Netflix app from the Microsoft Store. You also might want to clear cache stored on your device with third-party tools like Wise Care 365 after uninstalling the app.
Summary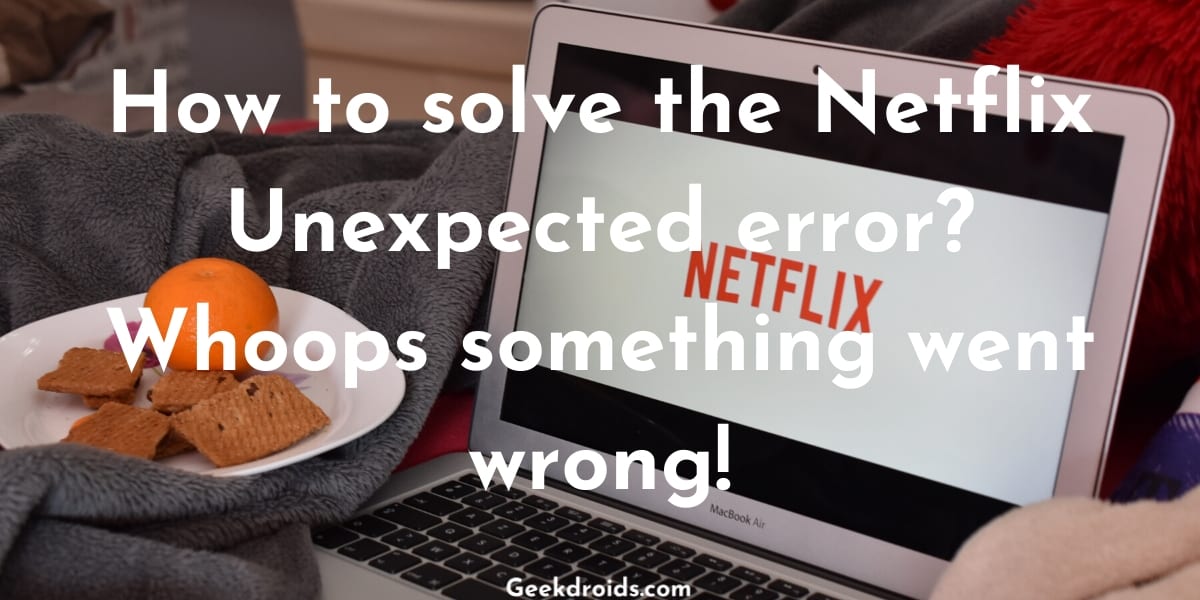 Article Name
How to fix Netflix Unexpected Error?
Description
Find out about the different types of Netflix unexpected errors and how to fix those errors.
Author