YouTube comments are an exciting place for discussion and critique of the particular video under which it is. There are sometimes exciting facts related to the video's subject matter or timestamps for important moments mentioned in the comments.
Or interesting discussions spark up from a certain comment which can provide a great deal of knowledge about the subject of the video. Also, a lot of times, we read a certain fact or statistic in the YouTube comments and then when we come back to the video later, we are unable to find it.
If the video has many comments, then just scrolling won't help, and we need to search YouTube comments using a tool. Here are a few tools you can use.
Can you search comments on YouTube?
Yes, you can search YouTube comments by using the YCS Chrome extension or you can you a tool like YTComment Finder or use browser's inbuilt find option.
1. Use A Chrome Extension
First, install the YCS extension from the Chrome Webstore.
After adding the extension to your browser, open the YouTube video in which you need to search comments.
Under the YouTube channel name, you will find a small square box with details about the comment section.
Click on the 'Load all' button to load all the comments quickly.
Now enter the search term in the search field and click on the search button. It will instantly show search results of comments which contain the search term. There are also multiple filters and sort options available.
2. Use Online Tools
There are two websites available YTCOMMENT and Hadzy, on which you can enter a youtube video URL and then it will load all the comments and let you search amongst them.
Enter the YouTube video URL in the search field and click on the search button. Or in the case of the Hadzy website, it will automatically load the video once you paste the link and then press on load data button.
The comments will load from the video, then you will get a search field to enter the text you want to search, and it will return the results of comments that match.
3. Use Chrome's Inbuilt Finder
This is a very easy and quick way of running a youtube comment search. All browsers have a find in page function, which lets you search for any text on the current page.
If there are very less number of comments on the YouTube video then, just load all of them by scrolling to the very end, now press CTRL/command + F and search for the comment.
How to search within your youtube comments?
Now what to do if you want to search within your own youtube comments that you made on videos of different youtube channels which you watch? As youtube keeps your watch history under it you can also access your youtube comment history.
Here's how you can find it –
Open your YouTube watch history page from here.
Then on your right side, you will find 'Comments' under the option 'Manage All History'.
Click on it, and you will be redirected to your comment history in Google's MyActivity. From there, you can delete and edit your comments.
Summary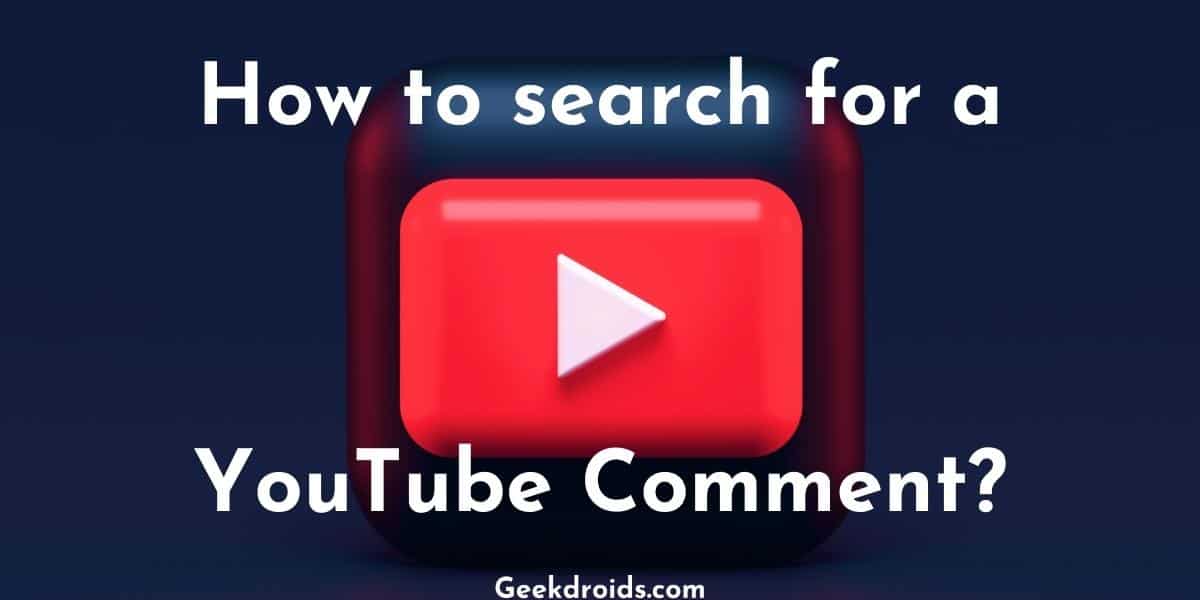 Article Name
How to search for a YouTube Comment?
Description
There are many different ways to perform a youtube comment search, like using a browser extension or online web tool.
Author