Users post wonderful pictures on Instagram but they don't always back up their Instagram photos. Or many users wonder how can they bulk download Instagram photos of their favourite accounts. If you are one those people then 4k Stogram is the best solution for you.
4k Stogram even works for downloading pictures of private accounts if you are already following them and willing to sign in into this application with your account.  4k Stogram is the perfect application for all your bulk Instagram downloading needs. It's available for Mac, Windows, and Ubuntu and also comes with multilingual support of up to 13 languages.
4k Stogram makes it a lot easier for us to bulk download images and videos from Instagram or just to simply backup our Instagram photos and videos onto our local machine. What follows is an awesome review of this amazing application for Instagram downloaders.
4k Stogram – Best Instagram bulk downloader
4k Stogram is one of the easy to use and minimalistic Instagram downloader out there. You can just enter a username and all of the user's Instagram photos, videos, stories and highlights will be downloaded, or you could just enter a hashtag and all the posts with that hashtag will be downloaded onto your computer or laptop. This really is one of the easiest tools to use for bulk downloading pictures from Instagram.
4k Stogram gives us an awesome way to download many profiles at once and have offline access to them which gives us a quick and immersive photo viewing experience on our devices as the photos are already downloaded onto our devices.
4k Stogram is available for free with PC, Linux and Mac. It has a freemium model and primarily comes as a free version but with limitations. You can easily download the latest free version from here.  After downloading the setup, install it by following the on-screen instruction and then open the app.
You will be presented with the app home screen. Here you can enter the username of the user you want to download all the pictures and videos or also you can add hashtags and download all images with that hashtag. You can also download images by the locations that they are tagged with.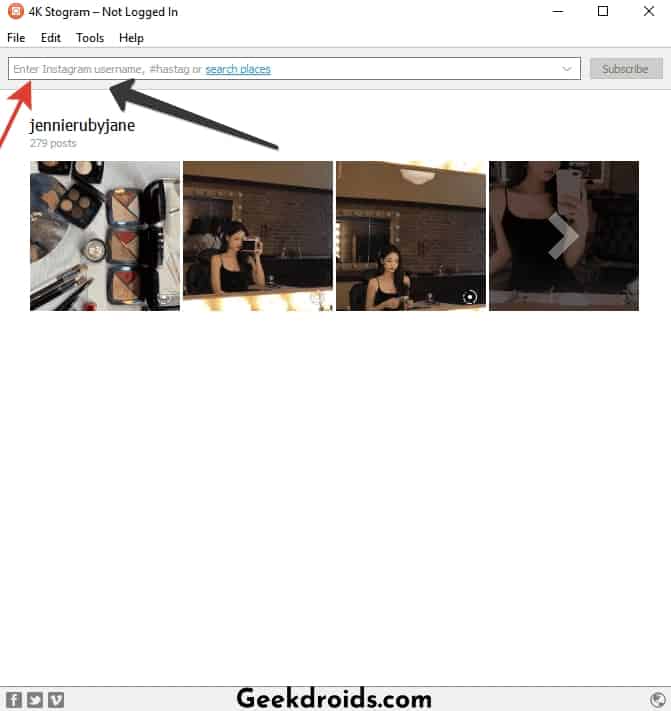 How to bulk download Instagram photos with 4k Stogram?
There are three ways in which you can bulk download Instagram photos and videos and those are –
By entering the username of the user account.
By entering a Hashtag.
By Entering a certain location to download all photos tagged with it.
If you want to download the Instagram photos of a private user, you can also do that with 4k Stogram. But the caveat is that you need to be following the user from your own Instagram account and you will have to sign in with that account in this app.
To sign in with your Instagram account, goto to 'Tools' and click on 'Preferences'. A new sub-window will open and right at the bottom, you can find the fields to enter your username and password.
Enter your credentials to log in and then go to the home screen and enter the username of the private accounts you want to download Instagram photos and videos of. Also, an advantage if signing in to the app with your Instagram is that the stories and the highlights of all users also get downloaded.
Features of 4k Stogram
There are a lot of pleasing features of 4k Stogram which are luring in many users every day. Some of the most significant features of this app are –
Download Private Account's Photos and Videos – This is probably the only app which lets you download the photos and stories of private user account but the ones whom you actually follow from your account.
Bulk Download Videos – You can easily bulk download videos from Instagram in mp4 formats.
Backup your Complete Account – You can easily backup your Instagram account onto your local machine with just a few easy clicks.
Export-Import – 4K Stogram has also a perky feature which allows its users, to export and import their subscriptions, which means the accounts, the locations and the hashtags they were subscribed to.
Cross-Platform Support – Supports Mac, Windows and Linux.
There is also a premium version of this app available which you can purchase for 9.95$ as a one-time fee for use in three computers. Pretty cheap isn't it? and it also gets the job done well. With the premium version, you will get unlimited posts, stories and private users posts download option. Also, no ads and you can subscribe to unlimited accounts and future updates are included in this 9.95$ price.
The offering is pretty good and worth your money. We have been using this app for a while and we really like it and think you should definitely get it, for your bulk Instagram photo downloading needs.
Summary
Author Rating
Software Name
Operating System
Software Category
Price
Landing Page